Invisalign is an orthodontic treatment that uses clear, custom-made aligners to help correct teeth alignment. The aligners are a series of gradually changing pieces that are fitted over the teeth and gradually adjusted until they achieve the desired smile. Invisalign is a relatively new treatment option, but it's growing in popularity due to its many benefits.
Here's everything you need to know about invisible aligners and how it works.
What is Invisalign?
Invisalign is a clear, custom-made dental treatment that uses transparent aligners to move teeth into their correct positions. The aligners are custom-made to your teeth, and they're removable. Over time, the aligners move your teeth into their correct positions, and they can be removed whenever necessary (e.g. when eating). It's a minimally invasive treatment that can make teeth look good and feel better – without any pain or need for traditional dental treatments like metal braces.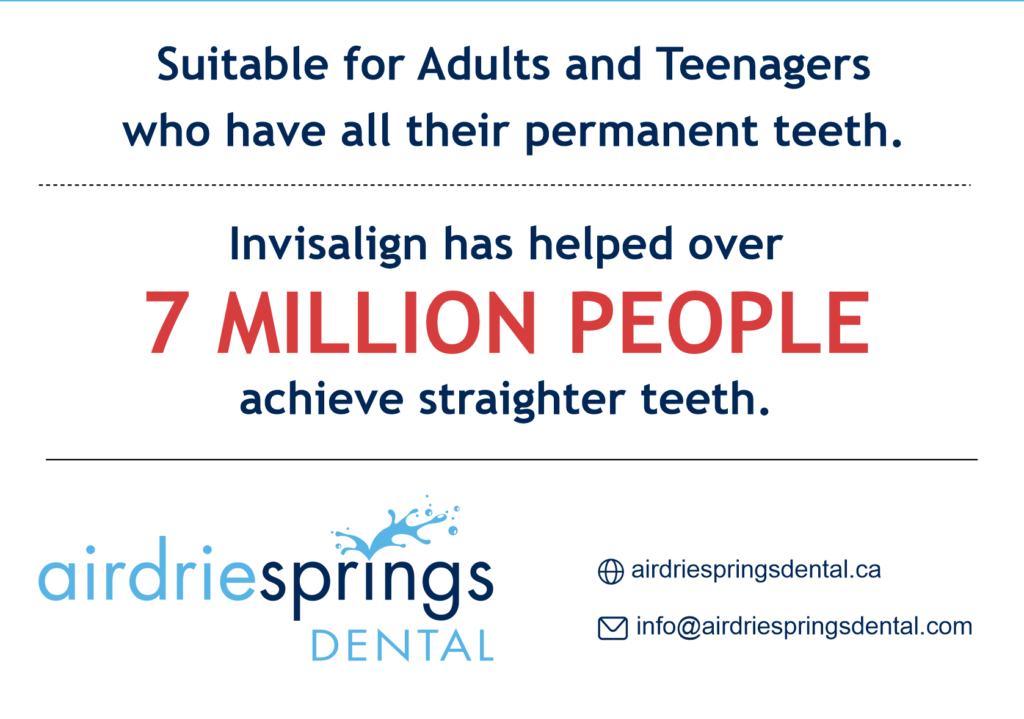 What is Invisalign made from?
Invisalign braces are made out of plastic or a resin known as "polyurethane resins." They are medical grade, with a high molecular weight. This biocompatible material is strong enough to endure the impact of your teeth but lightweight with a polymer coating, so you don't experience discomfort. The removable silicone cushioning allows for comfort and freedom of movement without any restrictions.
The FDA-approved treatment aligns your teeth by moving them forward or backwards on a custom-made track. Invisalign treatment typically lasts for approximately 18 months.
Is Invisalign safe?
For those wondering if Invisalign treatment is safe, it is discrete, comfortable, safe, and convenient, but you may be wondering if this treatment is right for you.
A Painless BPA Free Alternative
The safety of the chemical "BPA" has been questioned in recent years, but thankfully Invisalign provides a cheaper alternative to braces without the risk of this highly toxic chemical.
With completely safe plasticizers, clear aligners use a medical-grade polyurethane resin to make clear braces because they are proving safer without the addition of dangerous chemicals. With Invisalign, you can enjoy painless treatment without the risks.
Safe to Use While Pregnant
If you are pregnant, your mind has likely already been made up about which things will be safe to do and consume.
If you are already wearing your aligners, there is no cause for concern. Many pregnant women choose Invisalign, a removable aligner, due to changes in their oral health during pregnancy. These changes that occur because of pregnancy-related hormones can make your teeth or gums swollen or loose. An invisible aligner will prevent movement and preserve your perfect smile from trauma over time.
Invisalign is very safe and has been approved by the FDA as a treatment for mild to moderate dental problems. Unlike traditional braces, which require you to wear them for several years, Invisalign can be removed after just 18 months. If you have any questions about the safety of Invisalign, don't hesitate to get in touch with your doctor or dentist.
What types of dental issues can Invisalign correct?
Dental problems are a common source of pain and suffering and can require extensive treatment.
Dental problems can be classified into three main groups: structural, functional, and cosmetic.
Structural problems include crooked teeth, misshapen teeth, and gaps in the smile. Functional problems include poor chewing and swallowing ability due to a lack of space in the teeth or jaw and difficulty with speaking or breathing because of crowded teeth. Cosmetic problems include stained teeth, crooked smile lines, and receding gums.
Invisalign is a revolutionary dental treatment that uses a series of discreet aligners to correct these types of problems. Invisalign can provide many benefits for people with dental issues, including improved appearance, reduced pain, and decreased need for oral surgery.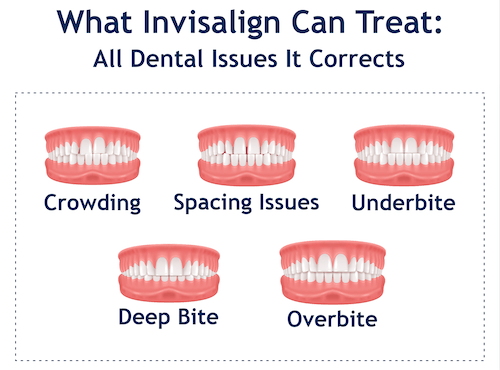 Here are some of the types of dental problems that Invisalign can correct:
1. Crowded teeth – Invisalign can help adjust the position of teeth that are crowding each other or interfering with chewing or speech.
2. Teeth that are crooked or out of alignment – Invisalign can help fix teeth that are out of alignment and crooked.
3. Misshapen Teeth – Invisalign can help reshape teeth that have been misshapen by accident or disease.
While Invisalign is not a magic cure for all dental issues, it is an innovative treatment that can help improve the look and function of your smile.
If you are interested in learning more about this technology or if you have any questions about how it could benefit you, please feel free to contact our dental office for more information on Invisalign clear aligners in Airdrie.
Who can wear these clear braces?
Invisalign is a type of clear, removable, fixed-position braces that use a series of adjustable bands to move teeth to their correct positions. The goal of Invisalign is to improve the appearance of teeth by removing the need for traditional metal or porcelain braces.
Invisalign is typically prescribed for people aged 12 and older who have problematic teeth that require treatment but do not meet the criteria for traditional braces. To determine eligibility for Invisalign, your dentist will take a physical and dental history before starting treatment.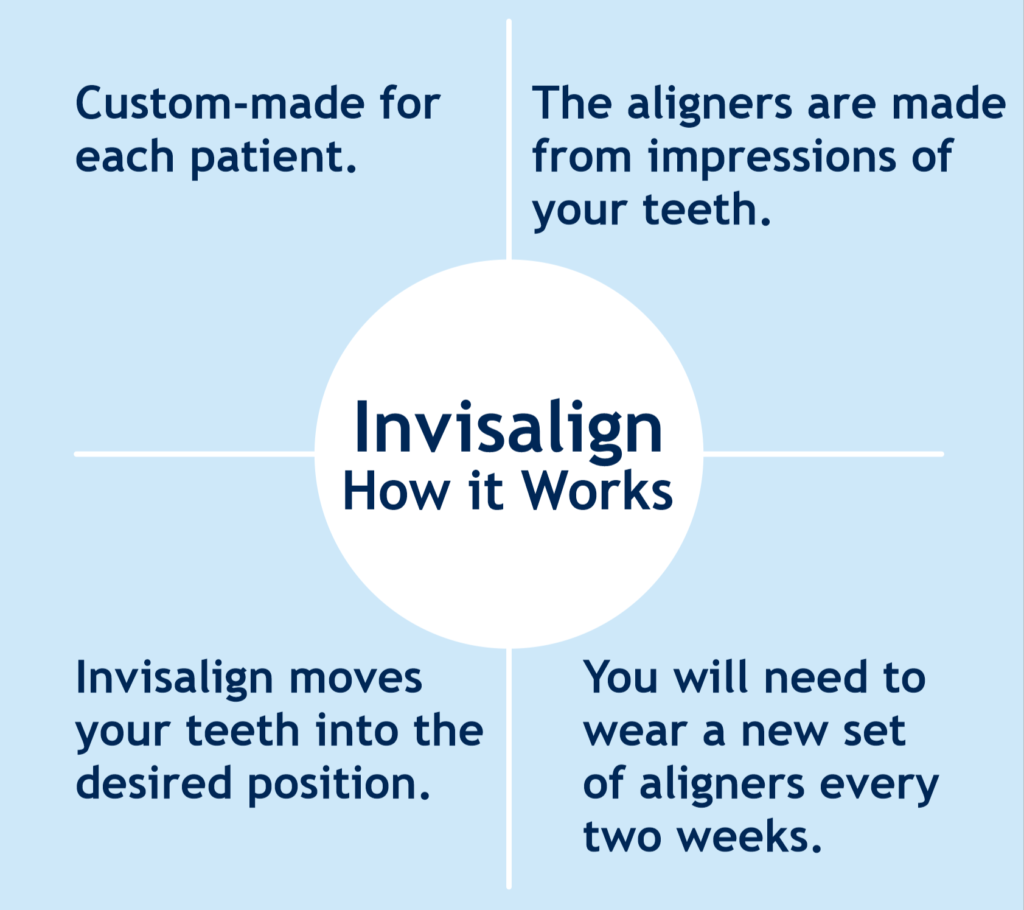 How does Invisalign work?
If you are looking to change the look of your teeth, there are a few options available to you. One popular option is Invisalign, which uses clear braces that move your teeth into their new positions gradually over time. Invisalign is a popular treatment option because it's fast, easy, and affordable – and it can give you a beautiful, healthy smile.
Here's a look at how it works:
In orthodontic treatment for aligning teeth, Invisalign works by using clear aligners to move teeth into the desired position.
Invisalign uses computer-generated impressions to make customized aligners that are placed around the teeth and then "pulled" into place with a firm ceramic. This helps to change teeth into a new, improved position without the use of fixed wires.
If you have any questions about Invisalign or want to find out more information, be sure to check out our blog!
How does Invisalign feel?
When you think of dental braces, you imagine metal bands and uncomfortable wires sticking out of your teeth. But that's not what Invisalign is. Invisalign is a type of dental brace that uses transparent plastic material and custom-made aligners to correct your teeth's alignment. They look completely natural once they're fitted and the brackets are removable, so you can eat, drink, and brush your teeth normally.
How long will your Invisalign treatment take?
Invisalign is a teeth-straightening system that uses clear dental braces to move teeth into ideal positions. Each person's teeth are unique and require a different treatment plan. However, typically, Invisalign treatment takes approximately 18 months, but it can sometimes be longer if there are some complications with the treatment. You will likely need two office visits each month for the entire treatment, and each visit will last around two hours.
If you are looking for a treatment that can give you a straighter smile in just a few simple steps, Invisalign may be the right choice for you!
Pros and Cons of Invisalign
For many people, choosing between Invisalign and traditional braces can be a difficult decision. However, by understanding the pros and cons of each type of treatment, you can make an informed decision about which one is right for you.
Pros: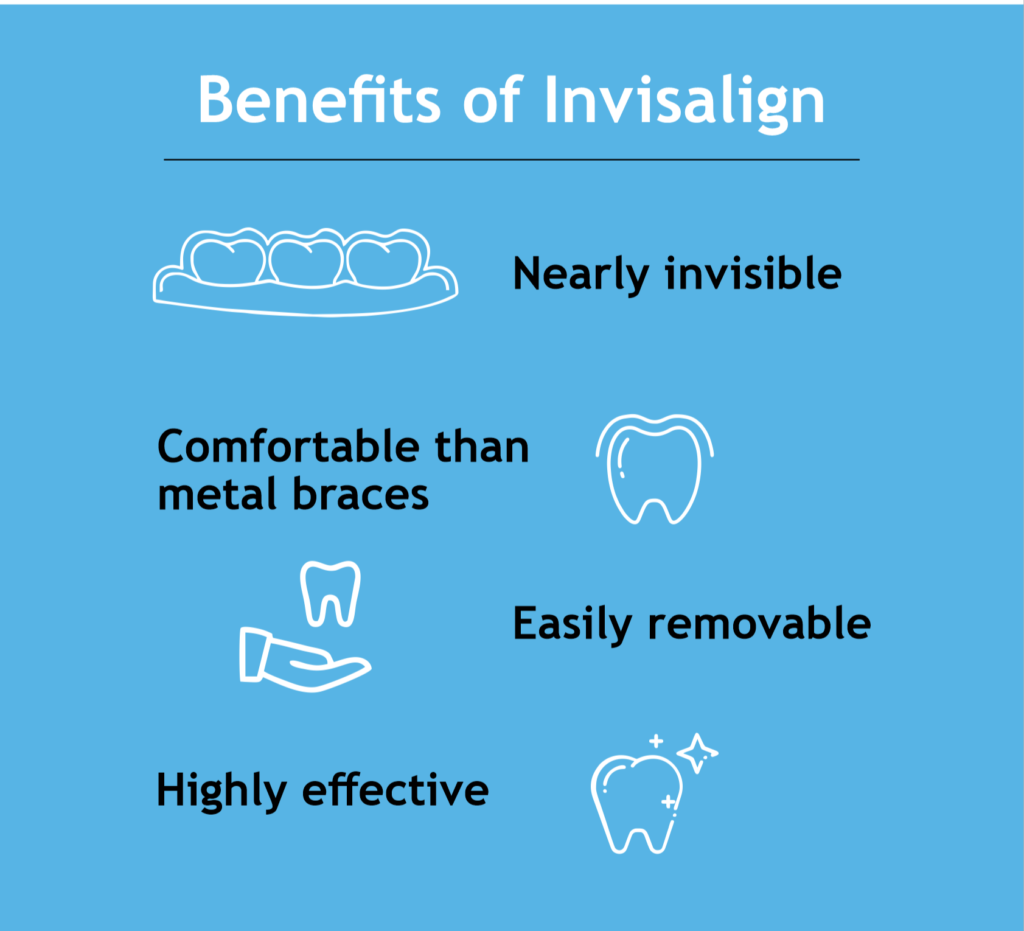 It is a fast and easy way to improve your smile. It is also one of the least invasive dental treatments.
You can continue to eat and normally drink while undergoing treatment.
Invisible Braces can be an excellent option for people who want to improve their smiles without undergoing extensive dental work.
Clear Aligners are easy to wear and can be adjusted as needed.
You will receive individualized instructions from your dentist every step, and you can expect to have your braces off in about 18 months.
The dental material used in Invisalign is custom-made for each patient, so it is removable and more comfortable. – a huge advantage over standard braces!
Cons:
Invisalign is a treatment for teeth that have been popular for over a decade. However, it has some limitations.
Here are some of the most common issues with Invisalign:
It cannot correct all types of tooth problems. It is not as effective on crooked teeth, and it may not be able to correct a tooth that is leaning outwards.
It also has a limited degree of flexibility, which may make it difficult for some patients to wear the brace for an extended period.
Additionally, it may not be suitable for everyone, and patients may experience discomfort or other issues while wearing these braces.
Types of Invisalign
If you're looking for a dental treatment that can change the way you look, Invisalign may be the option for you. This revolutionary treatment uses clear aligners to correct teeth irregularities and improve your smile.
There are different types of Invisalign: All types of Invisalign use the same basic technology: custom-made aligners that gradually shrink over time.
Here's a brief overview of the different types of Invisalign available:
Invisalign Full:
The most common treatment in dentistry here is Invisalign Full. It helps your teeth change by straightening them but doesn't require brackets or wires. With this type of treatment, the average time between consultations and treatment can range from 2 weeks to 18 months, with minor variations.
Invisalign Lite:
Invisalign Lite helps solve less complicated alignment problems. The aligners in this solution come in a fixed number of clear models and are designed to change the position of your teeth. Ideal for those who need their teeth fixed before undergoing cosmetic work, from veneers to bridges, Invisalign provides an easy way to enhance your dental aesthetic/cosmetic solution.
Invisalign i7:
Invisalign i7 is an alternative for those who need dental corrections but do not require complete Invisalign treatment. People suffering from minor overcrowding or one crooked tooth who want to correct them immediately can benefit from this method. If a person who had previous orthodontic treatment and has experienced relapse, then i7 can be a great solution.
How can you make your Invisalign more effective?
The unique design of Invisalign gradually corrects any misalignment and achieves better results than traditional braces or surgery, and is often more cost-effective as well.
The treatment is started by creating an impression of your teeth, and then the Invisalign team creates a custom set of clear braces to move your teeth into their ideal positions. Unlike other types of braces, which require metal bands and tight adjustments, Invisalign uses gentle, adjustable plastic materials that is concealed within your teeth. You wear the braces for about eighteen months – and then you can finally start enjoying beautiful, straight teeth!
Are you looking to make your Invisalign treatment more effective? Our team of dental professionals at Airdrie Springs Dental can help. Check out our blog for tips on making your Invisalign work better for you.
Invisalign vs. Traditional Braces: How to know which one is right for you
When it comes to teeth alignment, choosing the right type of braces can be a daunting task. Between Invisalign and traditional braces, which is the best option for you? Here are some key points to help you decide.
Traditional braces: These are metal bands that go around your teeth and hold them in place. They're a great option if you want to maintain your teeth's alignment as they help keep them in their correct positions. However, they can be uncomfortable and take a while to get used to.
Invisalign: These are clear plastic aligners that you wear on your teeth. These aligners are removable, so you can remove them as needed. Plus, they're virtually invisible, so people may not even know you have them on! However, there is a slight risk that the aligners could break and leave your teeth out of alignment. So it's important to choose the right kit for you and follow the instructions carefully. Both braces can achieve great results, so it's up to you which one is best for you!
Check out our blog to learn which one is right for you!
Why choose Airdrie Springs Dental's orthodontics as your Invisalign provider?
Airdrie Springs Dental's Invisalign Treatment is an expert in the Invisalign orthodontic treatment industry. Our experienced and certified team provides you with the best care while undergoing your Invisalign treatment. Your Invisalign treatment will be customized to fit your unique needs, so you can achieve the beautiful, healthy smile you've always wanted. If you're interested in learning more about our Invisalign services or would like to schedule an appointment, please call us today at (403) 948 3575.
Invisalign Clear Teeth Straighteners Interesting Facts and Figures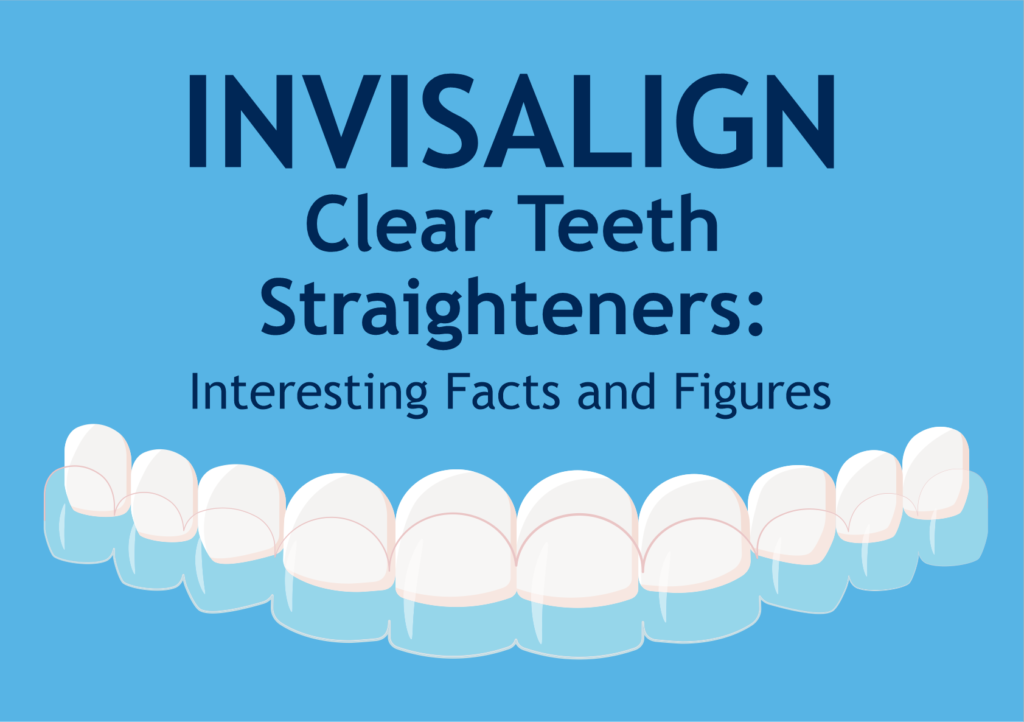 Invisalign braces are more effective than traditional braces at correcting tooth alignment, and it is also less invasive. If you're interested in learning more about this treatment or if you would like to schedule an appointment to see if it might be a good option for you, please visit our website today!