When making the decision to do something great for yourself, the first step is often the hardest. Porcelain Veneers are one of those great things and it's our job at Airdrie Springs Dental Clinic to make it easy for you. Dental veneers are a great solution for people with discoloured, worn down, chipped, misaligned, spaced, uneven or irregularly shaped front teeth.
It's been said that "There are hundreds of languages around the world. But a smile speaks them all." We want your smile to speak VOLUMES about how great we think you are!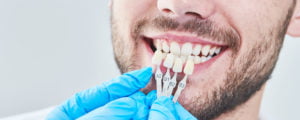 Reviewing records with Dr. Ng the other day, we both thought our blog readers might benefit from some inside info that made getting Veneers an easy choice for so many of our other patients.
So, here are the top three, most frequently asked questions about Veneers to Airdrie Springs Dentists:
The average treatment is completed in a couple of weeks. After the first appointment, you are fitted with "temporary veneers" which look almost identical to the real thing, and serve as a test drive before we cement the permanent veneers.
#2: How soon can I get started?
We are prepped and ready to start when you say "go!" This is what we do and we love working with decision-makers. If you make decisions and are ready to get all the benefits of Veneers then we want to work with you.
#3: How can I afford it?
This is our favourite question of all! If only everyone knew about the options for flexible payments and financing over time. If you have been dreaming of getting Veneers, how can you afford not to?
If a healthy and attractive smile is as important to you as it is to us, then I want to make it easy for you to get started!
Simply call us at Airdrie Dental Clinic to get started. We look forward to hearing from you! Schedule an appointment online today or call our cosmetic dentist Airdrie office @ (403) 948-3575 for all your cosmetic dental treatment and services requirements.
Weekend Dental Appointments & Late Hours Available