According to the American Dental Association, an estimated 5 million teeth are knocked out every year through sports. The ADA also believes that wearing a mouth guard prevents 200,000 injuries to the mouths of athletes and sports players every year.
In addition, the Academy for Sports Dentistry recommends mouth guards for more than 40 different sports.
Think about it…
You buckle your seatbelt when you ride in a car.
When you ride a motorcycle, you wear a helmet.
You wear eye protection when operating certain tools.
Why wouldn't you wear a mouth guard when playing a sport?
Going out on the playing field wearing your mouth guard is as important as putting a baby in a car seat. And, popping a mouthguard is also much easier!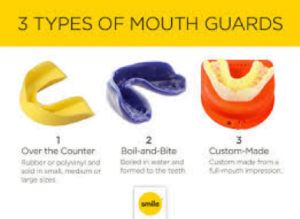 Those who lose teeth from rough play probably wish they had put their mouth guards in first. If you or your kids are involved with sports, it's only one small thing you need to do to protect your teeth for a lifetime. Wear your mouthguard.
Make an appointment with your dentist so you can pick the best solution for your mouth.
In addition to providing tips through these posts, we're also pleased to offer a FREE report that offers important dental information. Why not get your copy now? The Consumer's Guide to Straighter, Whiter Teeth is just a click away. And it's absolutely FREE.
If you need further information, want to make an appointment, or have a question answered, you're more than welcome to call us at Airdrie Springs Dentist at 587 317 4161 or click here to visit our website.
We hope you will get the best dentist in Airdrie Alberta. We at Airdrie Springs Dental are an experienced dental team that's passionate about smiles, and we look forward to discussing your options!
Schedule your free consultation right here on our website, and we will work to find a time that fits your schedule, for this and all of your future appointments.
Weekend Dental Appointments & Late Hours Available