All of us desire to have a camera-ready smile! Some people seem to feel awkward with crooked, crowded, or misaligned teeth. One of the traditional solutions in the orthodontics world is to apply dental braces. However, with the rise in the need for adult teeth straightening, and the desire for a less conspicuous solution, the development of Invisalign was born.
Invisalign Aligners are a transparent set of tight-fitting, personalized hard plastic mouthpieces that slip over the teeth. Have you ever had or seen a mouth guard? It's kind of like that, but much more comfortable, thinner, and less visible. An individual who has mild to moderately crowded teeth or has small spacing concerns can receive Invisalign. It can also adjust your bite. Patients with a little overbite, crossbite, or underbite problems can also be approved for Invisalign in Airdrie. As it is a custom, tight fit, it's convenient for adults or teens.
Invisalign is the highest manufacturer of transparent aligners, but this is not the only brand. While "invisible" aligners aren't prepared for each and every one. Your general dentist or orthodontist can check and see if YOU are the right fit for Invisalign!
What will your dentist do in Airdrie, AB?
Once your dentist or orthodontist examines that you are suitable for Invisalign treatment; then he or she will carry out the plan. The dental team at Airdrie Springs Dental will work to take a series of digital impressions. No more goopy impressions! These impressions will be sent to the Invisalign laboratories. Next, a precise set of trays are created to help the patients proceed with upgrading their smiles.
The treatment is done by allowing you to wear the trays throughout the day and night. As the trays are easily removable, it lets patients continue their oral routine smoothly. This includes flossing and brushing and following healthy habits. The number of trays in an individual's series may vary as this is based on how severe is your misalignment. You'll get a new aligner after every few weeks to keep on moving the teeth in the rightful position.
What are its Benefits?
They are inconspicuous 

Trays are easily removable 

Helps to straighten your teeth

You get a good appearance without having to hide behind metal appliances 

As trays are easily removable, therefore it becomes very easy for patients in maintaining their healthy oral practice.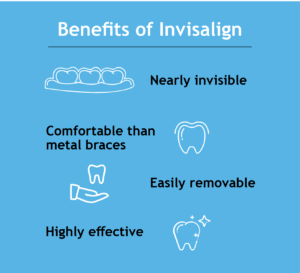 How much do Invisible Aligners cost?
Airdrie Invisible Aligners costs are generally decided by the individual Airdrie dentist or orthodontist. Here at Airdrie Springs Dental we offer flexible payment plans and do everything we can to make the treatment accessible to all qualifying teens and adults. 
 Your Smile, Our Priority!    
Patients may feel very little pain, discomfort, and mouth snoring in this treatment than patients with conventional braces. At Airdrie Springs Dental, we can help you achieve a beautiful, confident and healthy smile with Invisalign. Get your appointment now as we always provide quality dental care at a reasonable rate!
Now, if you are surfing the web for a 'Dentist near me, in Airdrie then surely visit our office at Airdrie Springs Dental. We are just a call away! Schedule an appointment online today or call our dentist in Airdrie on (403) 948-3575 for all your dental braces treatment requirements.
Weekend Dental Appointments & Late Hours Available