Dentists get a lot of questions about diabetes and dental health.  In this series of posts regarding diabetes and your dental health, one top question has to do with bone loss. Specifically, the loss of bone in the jaw.
If you were wondering if diabetes can lead to bone loss…the answer is (unfortunately) yes. Here's how it can happen if you don't take the steps to prevent it.
Diabetes is no joke. As you are most probably aware, It can really do a number on your whole body.  And, if you aren't careful, the risk of oral disease can rapidly increase. In fact, one in 5 cases of tooth loss is linked to diabetes.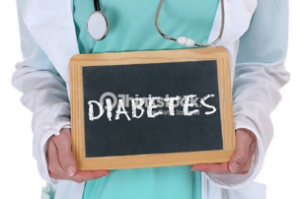 This information isn't to scare you, but rather to educate you!
In Part 1 of this series, the importance of controlling your blood sugar, brushing, and flossing was presented.
But there may be some things going on that you might not notice. Keep a look out for something that doesn't seem quite right.  That little thing may need our attention and help you keep a healthy mouth.
For example, seeing blood in the sink when you brush or floss might be an early sign of gum disease. This is serious for a number of reasons and needs to be checked out by your local dentist.
You see, your jaw bone is actually what supports your teeth, not your gums. Gum disease that's not caught early and allowed to progress can actually break down the bone and cause you to lose your teeth.
The less attention you give your blood sugar, the worse the bone loss can get.
Again, the important thing to remember, if you have diabetes, what might seem like little things to you could be significant to your local dentist. Be sure to mention all of them. 
In addition to providing tips through these posts, we're also pleased to offer a FREE report that offers important dental information. Why not get your copy now? The Consumer's Guide to Straighter, Whiter Teeth is just a click away. And it's absolutely FREE.
If you need further information, want to make an appointment, or have a question answered, you're more than welcome to call us at Airdrie Springs Dentist at 587 317 4161 or click here to visit our website.
Weekend Dental Appointments & Late Hours Available